WELCOME TO
FRANKLIN, LOUISIANA

This is my hometown!

Our Main Street!

Southern Homes along Main Street
Franklin, Louisiana has got to be one of the most attractive small towns in southern Louisiana. It is located about 45 miles south of Lafayette, LA on Hwy 90. The main street is so very beautiful and the homes along its path sing of southern heritage and speak of the deep south. Franklin is a small community with about 12,000 inhabitants, and the parish seat of St. Mary Parish (we don't have counties). St. Mary Parish borders the Gulf of Mexico. Its the most thriving Sugar Cane farming region in the state, and an avenue to the Gulf's many oil fields. Franklin has often won the "cleanest city in the state" award and even attracts people who want to retire in the south. The tour of homes each spring is a big attraction to residents and visitors alike. I love this place!

Oh, Those magnificent Live Oaks and their Spanish moss!

Oaklawn Manor, Our current Governor's home!
Open daily to the Public!
Check these scenic photos out.
Our Main Street is lined with these homes!
A Very Old Southern Plantation House
A rarely seen house in an isolated community near Franklin!
The are at Oaklawn Manor
These are also at Oaklawn Manor
This ones in Lafayette, LA
This is full size!
I love these fields of Giant Green Grass!
Show this years harvest and next years
This is behind my house, a short walking distance!
This photo is my own private wooded area at my new farm!
These Photos were take by my friend Dwanye when he visited earlier this year to look at my collection of Finches. Dwayne is from Minnesota! There's an invitation to all of you to come and visit, I promise to show you a good time!!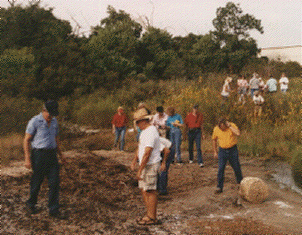 Here is a photo of fieldtrip with some of my students to an archaeological site near Franklin to search for Indian pottery fragments. Dwayne accompanied us during his weekend stay. The ground here is covered in pottery shards.